Real Estate Exam Prep & Continuing Education
The PSI Learning Academy provides access to quality materials for exam preparation, pre-licensing and continuing education from industry leading education providers to help you pass your licensing exam, prepare for your career and meet all your state's educational requirements. For our real estate candidates the Learning Academy provides access to course content from 360Training* and The CE Shop*.
360Training
360 Training offers access to a comprehensive online real estate school for industry professionals in need of career training for real estate license, mortgage continuing education, appraisal continuing education, titles and escrows, home inspection, and ongoing professional development.

All courses are fully accredited or deemed acceptable by the respective state and applicable for starting your real estate career or renewing your license. All courses are available immediately, you can start and stop when you want, and the system will bring you right back to where you left off the next time you log in. Online certificates are available and we also take care of reporting your CE credits.

A 24-hour customer support center is available 7-days per week to help all registered students with anything related to our courses. It's easy to get started – simply select your state from the navigation or use the links below. Once you are enrolled, you will receive a confirmation email with details on how to get started in completing your real estate education. Pre exam preparation courses for the National Salesperson and National Broker tests are only $79.00 and are available for the following states:
Continuing Education by The CE Shop
PSI is continuously looking for ways to assist our candidates before, during and after they test. Now we are offering assistance to help you during your career.
To assist with managing your Continuing Education requirements, PSI has teamed up with The CE Shop to create a convenient option for completing your continuing education requirements. It's fast, it's convenient, and it's relevant!!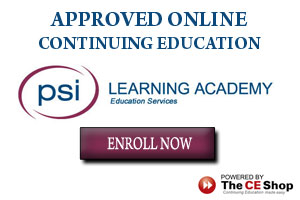 You can visit the State specific course catalog and review the courses—you'll find that there are some exciting new topics covered, including several commercial courses.
Once enrolled, The CE Shop will ensure that you remain compliant with your states continuing education requirements.
We are excited to bring you this additional benefit as a part of our commitment to your continued success. Please let us know if you have any questions or feedback.

br/>
PSI Approved Practice Tests
PSI practice exams are based on the exam content outline defined for each examination. The practice exams covers content common on the high stakes exams delivered by PSI.
Practice Test Content